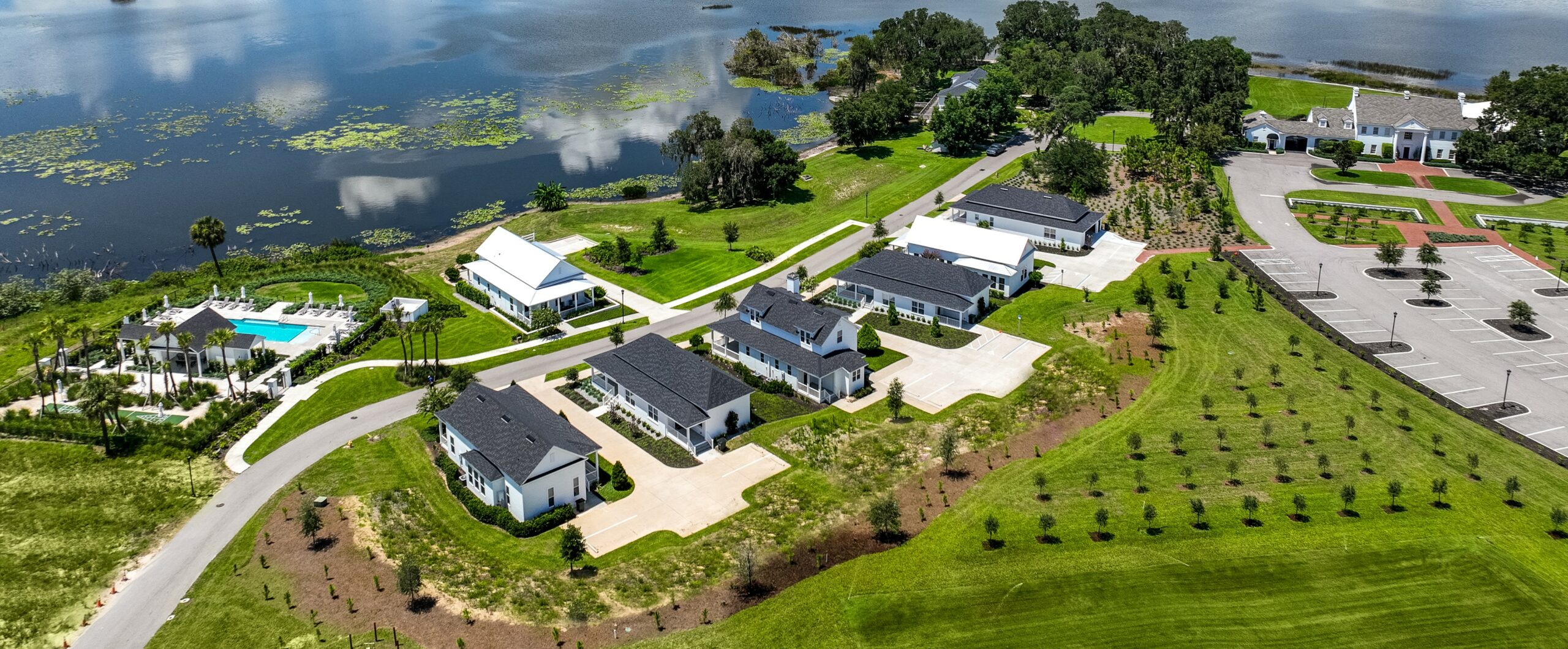 Lodging
Stay on-site in one of four charming cottages or one of four quaint duplexes overlooking Lake Alfred. Designed with easy southern elegance in mind, our cottages are equipped with luxury amenities and are perfect for wedding parties, reunions and families in search of a tranquil retreat during vacations, sports tournaments and more. Each cottage is well-appointed with full kitchens and a washer and dryer. Each duplex has a mini-fridge and microwave.
Our newest addition to the property will be eight Veranda & Balcony Suites with a late summer 2023 arrival.
For more information and to book your lodging click below.

This was a great, convenient, and peaceful place to stay while we visited family in nearby Auburndale. We really enjoyed the front porch, the rocking chairs, the lake view, the peace and quiet, the hospitality and thoughtfulness of the hostess and staff, and the prompt attention to questions. Cottage #9 is spacious and comfortable. The Adams Estate is very nice and we appreciate the family's and staff's hard work to develop and maintain it.
We found this hidden gem by pure luck. I am also in the hospitality industry, because of that I rarely find a place that exceeds my expectations until now. WOW, WOW and WOW! From the cleanliness, to the prompt response back when we needed extra items, the location was exactly what we were looking for a country setting with everything still nearby. HIGHLY recommend if you need a breath of fresh air or are planning a wedding or special event. The view, venue is spectacular! I am sure the service they provide is nothing less than perfect. My family and I were in town to take my daughter to Peppa Pig World and Legoland, I was not attending a wedding. Great job to all who made our stay amazing!
Awesome Stay!  Awesome Management!  Beautiful home, spacious; pristine and well equipped.  We regretted the whole time we weren't staying longer.  The Adams Estate property is simply wonderful, looks like a beautiful place to have an event. Would love to return!
We had a wonderful stay at Majors House! The space was sparkling clean and the house much larger and more open than we had anticipated from the photos. It was beautifully furnished and decorated and the bed was extremely comfortable. Zack was very friendly and communicative with all questions answered almost instantly. It was the perfect spot for a quick overnight trip to the area and we only wish we could have stayed longer!
We are eager to help host your spectacular event at the Adams Estate. To get started, please give us some initial details about your event.